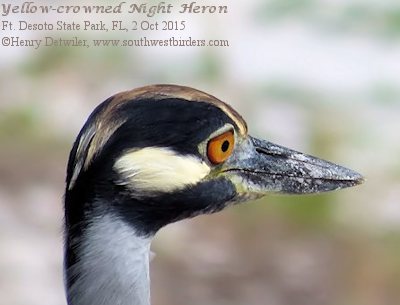 Day 1 - Oct 2nd
Suzanne and I had come to the Sunshine State to search for Florida specialties which we needed for our 2015 "Big Year." We were trying to see 600 species in the United States by year's end, and here we had a chance to add 20+ specialty birds. Fort De Soto Park was our first destination, but even as we were headed there we scored our first target of the trip, a flock of Magnificent Frigatebirds (#1). Once at the park we located a handsome Prairie Warbler (#2). There were lots of Sandwich Terns, a few Wood Storks, a close-up Yellow-crowned Night-Heron, and a number of other fine birds there. We thought we had another target, but it was just a mockingbird mitating a Gray Kingbird. It sure had us fooled! Later we heard one imitating an Osprey, which was pretty cool. Finally, after heading north out of the park, we had our main objective, two Nanday Parrots (#3) on Isla del Sol. At the Celery Fields we watched an Anhinga doing it's snake imitaion (body underwater and thin neck and head sticking out like a periscope).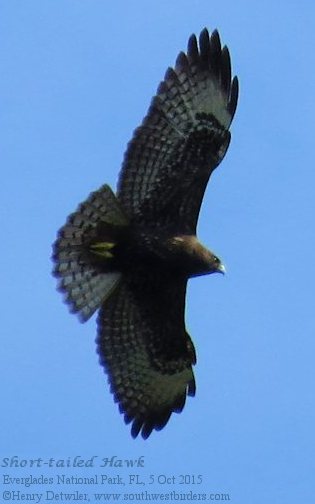 A few Sandhill Cranes wandered on the road and fed next to it. Our next Big Year bird was there, too, a Glossy Ibis (#4). In the heat of the day we visited Oscar Scherer State Park and had wonderful views of two Pileated Woodpeckers. I finally "squeaked in" several Florida Scrub Jays (#5) for some good views and an Eastern Towhee (#6) for Suzanne's list--I'd already gotten them in March when visiting my folks. We topped our fine Florida start with a fancy Italian dinner in Venice.
Day 2 - Oct 3rd
We drove down to Six Mile Cypress Slough Preserve, where we walked along a beautiful, long, boardwalk with fine stands of cypress and other swamp trees. We did the short (1-hour) loop and had nice views of an Ovenbird, Anhinga, titmice, and gnatcatchers. And lots of squirrels. Farther south, at Fakahatchee Strand State Park, Suzanne scared up a black racer. As we drove east on the Tamiami Trail I was just barely able to stop in time for us to see a Short-tailed Hawk (#7) crossing the road. Then at Shark Valley Visitor Center we saw another one, which we were able to snap pictures of. The trail leading south of the visitor center looked promising, but it was already afternoon and too hot. We did photograph one nice close-up Anhinga, though. Into the metropolis of Miami, we stopped at a pond south of Dolphin Mall and found five Grey-headed (Purple) Swamphens (#8). Then, farther south at the Baptist Hospital in Kendall we turned up a giant green iguana and a slug of Muscovy Ducks (#9).

Day 3 - Oct 4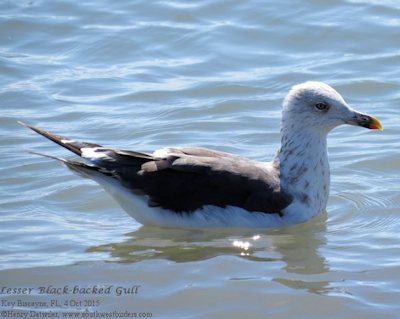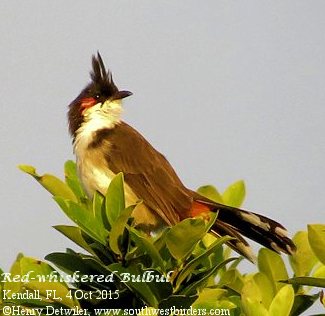 We started off the day right with Red-whiskered Bulbuls (#10) and Mitred Parakeets north of the Baptist Hospital. A Sunday-morning race blocked off half the road and bridge into Key Biscayne, so we crept along, barely faster than the runners. No luck with the Mangrove Cuckoo at Bill Baggs Park, but American Redstart, Yellow-throated Warbler, and Merlin were new for our Florida trip. And lots of hungry mosquitoes--which were not so new. Crandon Park had some new winter arrivals in the form of both Lesser (#11) & Greater (#12) Black-backed Gulls! Also here were lots of Neotropic Cormormants and Laughing Gulls, none of which seemed to mind the crowds of beach lovers. When we tried to leave the park, all the exits were still locked from the race.The ticket attendant told Suzanne that someone was coming to unlock the gates, but in the mean time to go ahead and move the entrance booth barrier. We escaped.

We drove up to Miami Beach and the large Ocean Bank building. It took us a while, but we finally heard a couple of the White-winged Parakeets (#13) in the royal palms. And after a bit more searching, and we actually saw one of the parakeets staring down at us. About the time my camera battery died we saw a flock of 40 or so wheeling about across the street! No luck hunting for Spot-breasted Oriole in two near-by neighborhoods, and despite glowing reviews,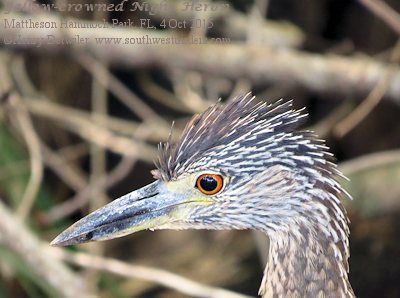 A.D. "Doug" Barnes Park yielded nothing much except a few more American Redstarts, a racoon, and feral cats. Mattheson Hammock Park had a couple of shorebirds (a flock of Ruddy Turnstones and a flock of Semipalmated Sandpipers), an immature Yellow-crowned Night Heron with a mean hairdoo, lots more mosquitoes, a fine showing of dragonflies, and several inches of standing salt water on the roads and parking lots due to the high tide.

Day 4 - Oct 5th
Lots of time spent at stoplights today as we traversed the city and more neighborhoods. No luck on our third search for Spot-breasted Oriole. Twice tried for Shiny Cowbirds in Homestead during the morning, but no luck with that one either. Perhaps it was due to a Cooper's Hawk waiting there in a big tree when we first arrived. We didn't even see it until it made an aborted attempt at some Yellow-chevroned Parakeets. Common Myna (#14) was easy in Florida City, and later Suzanne spotted our "Big Year" Gray Kingbird (#15) there, too. We were attacked by vicious, blood-thirsty mosquitoes on the Gumbo Limbo Trail. Once we got twenty yards into the trail they descended on us like rain, covering our shirts and pants, and every inch that wasn't doused in repellent. We beat a hasty retreat. The Anhinga Trail was pretty, but the only bird feeding was a lonely Great Egret--so sad after telling Suzanne what a birdy location this was going to be, and how it was my favorite Florida trail... At Kendall Indian Hammock Park we tracked down lots of repeat warblers, and finally located a new one, a handsome male Black-throated Blue (#16)!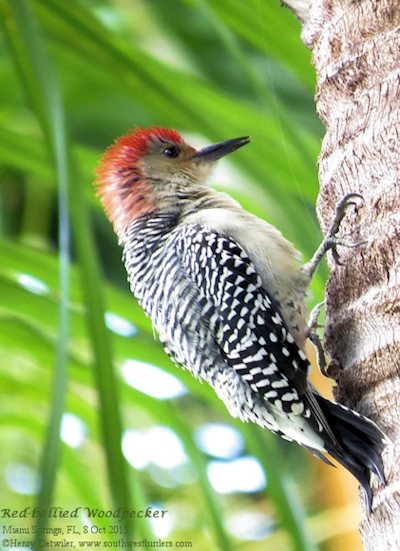 Day 5 - Oct 6th
We left Kendall this morning and headed south to Key West. Our first birding stop was at Curry Hammock State Park. The gate attendent told us about a likely tree for White-crowned Pigeons (#17) on a service road, and we lucked out! A nearby tree held was our first and only Cape May Warbler (#18). Mosquitoes were bad, and tried to carry Suzanne off. Worse still, I had so much DEET on me, she kept running away when I got too close. At the Key West Tropical Botanical Gardens we had great luck with warblers and other bird species. We added Chestnut-sided Warbler (#19) to the Big Year count, and Tennessee Warbler and Louisiana Waterthrush to our Florida list. We got both Scarlet and Summer Tanagers, and overall numbers of Ovenbirds were awesome. We also saw many more redstarts, Palm Warblers, and Yellow-throated Warblers. After checking in to our motel, we headed west to Ft Zachary State Park. Here we had what was perhaps the best birding of the trip, as we hit another wave of warblers. We added Worm-eating and Hooded Warblers to our day's list, which came to 15 warbler species.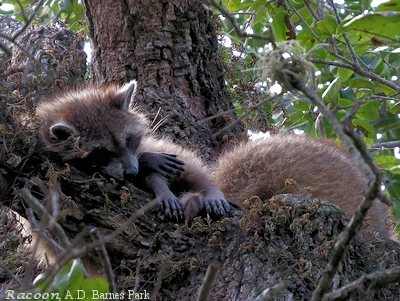 Day 6 - Oct 7th
We started out the morning back at Ft. Zachery. Hundreds of Palm Warblers fed in the wispy pines and on the lawns. Also there were other warblers, but not quite the variety as yesterday. We saw a Chuck-Will's-Widow which kept flying about, and finally got some photos of it on a branch. Lots more Iguanas on the lawns and fort walls. Suzanne found a new Yellow-throated Vireo. I toured the interior of the fort, which was begun in 1845--a really interesting place, and a lot like Ft. Jefferson. Around noon we got a Key Lime milkshake for Suzanne and a cup of Kahlua ice cream for me--very cool and tasty. We headed to Sonny McCoy Indigenous Park and found it to be a delightful place. Lots of plant variety and a couple of ponds brought in scores of warblers and other migrants. We added a vagrant Sulphur-bellied Flycatcher, Indigo Bunting, and a Northern Shoveler to our Florida list. Snapped lots of close-up photos, even in the heat of the day. But alas, no new year birds here or anywhere else today. We watched a big fearless iguana keep heading for a trio of girls at the pond--one of them kept shoing it away with her purse and it finally left them alone. Maybe they were wearing iguana slippers?
Day 7 - Oct 8th
We left Key West shortly after 7:00 a.m. and headed straight back towards the Everglades. In Homestead we beat a trail back to the Shiny Cowbird abode. The homeowner was out mowing, stirring up all manner of mosquitoes, but we perservered and scored with two Shiny Cowbirds (#19) skulking in a tall, leafy bush. Back up in Miami Springs we resumed the Spot-breasted Oriole chase, and found a flock of Mitred and Monk Parakeets instead. We also had wonderful looks at several more Black-throated Blue and other warblers. Along with snowbirds, it seems that fall brings a sizeable percentage of lawn tractors and leaf blowers migrating south--could hardly hear the birds in some places.

Day 8 - Oct 9th
On Friday we started our birding at Loxahatchee NWR in search of the recently-reported Smooth-billed Anis. We located the correct viewing tower and canal in short order, but were greeted with nary a squeak, whistle, or any sign of any huge, black, big-beaked bird. Continuing on the marsh trail Suzanne spied a flying Limpkin (#20), and a bit farther on we watched as two of them landed in a nearby tree and posed for pictures. More birding that day turned up lots of other feathered friends, but no additional Big Year targets. The next day we flew out to Jamaica for a five-day interlude from our Big Year chase. Beautiful lush tropics, a sparking ocean, and great birds.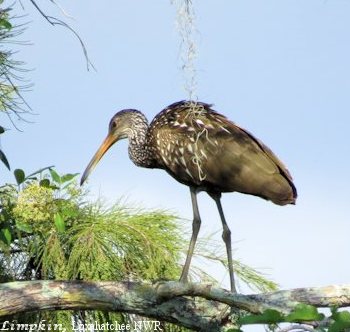 Day 9 - Oct 15th
On our final day of birding in the sunshine state we once again started at Loxahatchee NWR. Again the Snail Kites eluded us, so we set a course for Jonathan Dickinson State Park. Once there we headed to the Pine Grove Campgrounds to look for another Smooth-billed Ani. No luck at first, but then, as we were talking with one of the rangers about the bird he points and says, "What's that?" It was our bird (#21)! It was also ABA bird #690 for me and Big Year #597 for Suzanne. So we ended our trip on a fine note, with 21 targets added to our 2015 Big Year list.