Florida Canyon
Mar 8, 2014
Scott and I met early in Phoenix and arrived at Florida Canyon around 8:30.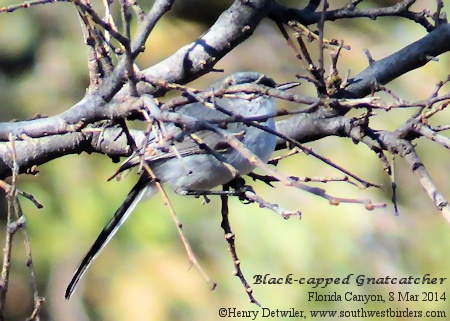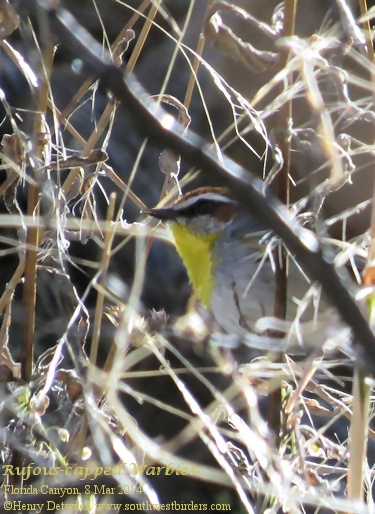 One of the two targets at this spot was BLACK-CAPPED GNATCATCHER, and we were fortunate to find a pair just north of the parking area; they even came in for close looks and photos!
The water was flowing heartily down the stream, but we managed to cross several times without falling in. A few minutes of hiking above the dam took us to a burned-out stump, where we heard some soft chipping. The first glance brought to mind a wren with a cocked tail, but quick looks through our binoculars revealed a beautiful RUFOUS-CAPPED WARBLER. We watched and tried to photograph them for several minutes as they quickly moved uphill. As we birded our way back down towards the car we added PYRRHULOXIA, RUFOUS-CROWNED SPARROW, BROAD-BILLED HUMMINGBIRD, SPOTTED TOWHEE, CACTUS WREN, AND BLACK-TAILED GNATCATCHER.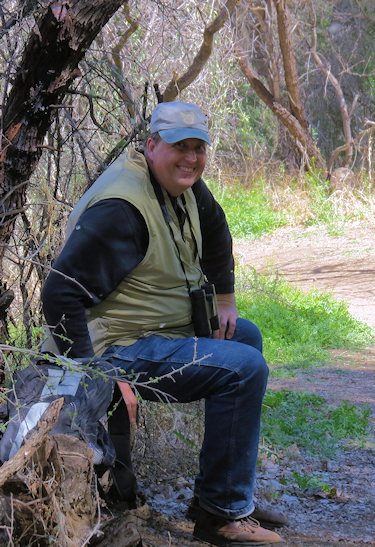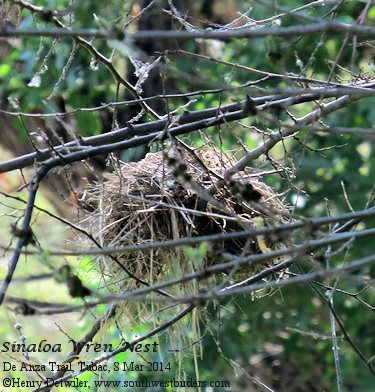 We headed down the highway and made a brief stop at Tubac to look for the SINALOA WREN. The nest was easy to find, but after an hour of nothing but BEWICK'S WRENS, BRIDLED TITMICE, BELL'S VIREOS, and GREEN-TAILED TOWHEE, we decided we'd re-visit the area the following morning.
At the Rio Rico Ponds we sorted through several huge flocks of LARK SPARROWS and came up with a pair INCA DOVES. At the Kino Springs Golf Resort we added lots of waterfowl and more VERMILION FLYCATCHERS. The ponds and surrounding habitat seems even more degraded than last summer; hopefully the whole area won't dry out. At Patagonia Lake State Park we had a fine walk down to the creek and found another of Scott's targets, a GRAY FLYCATCHER. Our final two stops for the day were at the Paton's garden and at Box Canyon.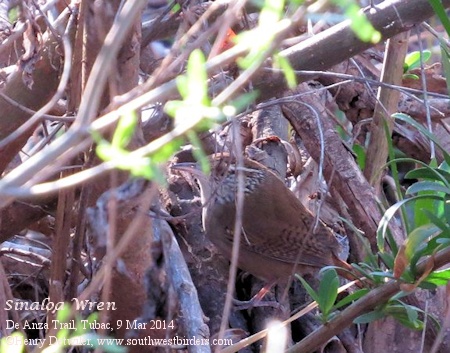 De Anza Trail
Mar 9, 2014
We were at the SINALOA WREN site by 7:25, and a few minutes later we heard its rattle call and got our first glimpse of this elusive bird before it flew away to the north. Fortunately, five minutes later it called again, this time at the base of a willow right next to the path. We got excellent looks, and I even managed a quick photo! But this turned out to be our last hurray, so we moved on to Ron Morris County Park in search of the migrating COMMON BLACK-HAWKS. Strong winds kept the BLACK-HAWKS grounded while we were watching, but we did get good looks at a ZONE-TAILED HAWK and a BLACK VULTURE.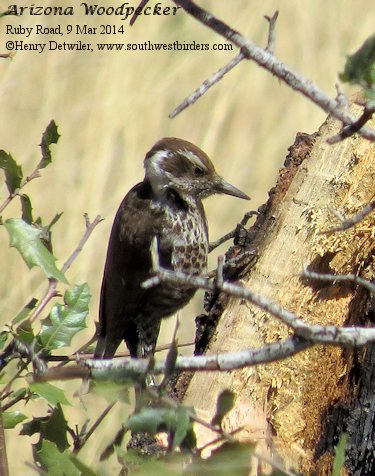 At Pena Blanca Lake we lured in a singing CANYON WREN. Farther along Ruby Road we stopped in a small canyon with grasslands and Live Oaks, hoping to find a Montezuma Quail. It seemed pretty quiet at first and then I heard the peent of an ARIZONA WOODPECKER. We chased it down, getting good looks and a few photos.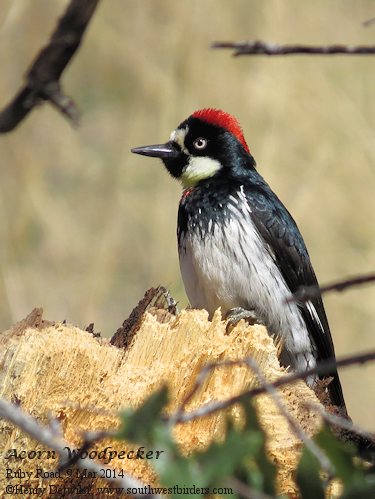 A couple of ACORN WOODPECKERS were nearby, so we spied on them, too. Our final birds in this small draw were several MEXICAN JAYS.
Sycamore Canyon was our next stop, and hopped the stream several times as we hiked into the canyon. Numerous pools of water added a lot to the beauty of the place. Birds were relatively quiet, but we did add a wintering HAMMOND'S FLYCATCHER.
Phoenix
Mar 10, 2014
We left Nogales early and arrived at the Gilbert Water Ranch at 8:30. We searched here in vain for Scott's final target, the ROSY-FACED LOVEBIRD. However, the park was loaded with other species, and we noted CURVE-BILLED THRASHER, our first BLACK-CHINNED of the season,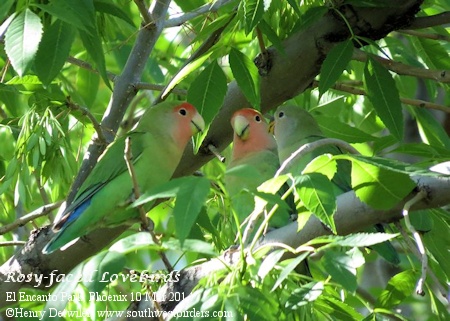 HUMMINGBIRD, AMERICAN AVOCET, BLACK-NECKED STILT, and multitudes of waterfowl. Half an hour later we were pulling into El Encanto Park in central Phoenix. The trees lining the W. Wilshire Drive entrance (off N. 15th Ave) have always been good for the LOVEBIRDS, and today was no exception. After watching and photographing them, we walked about the park some, and then dropped off Scott at the airport. He was headed back to his next winter storm, and I drove west towards another beautiful, sunny, Yuma afternoon.