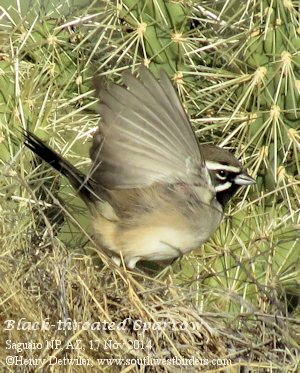 Michael and I headed west into the Saguaro National Park just as the sun was rising. It was a beautiful brisk morning, and at first we heard no birds at all. But as we got off the main road and farther into the park, the birds started to become more noticeable. We had several Gilded Flickers and Gila Woodpeckers on the giant saguaros. Cactus Wrens flew about, and we heard Black-tailed Gnatcatcher. A beautiful Phainopepla perched on a mesquite.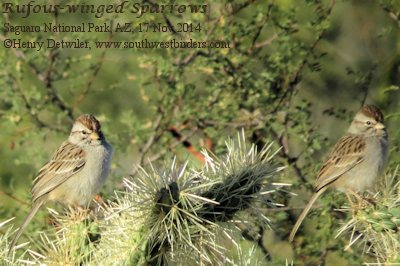 We had a mixed flock of sparrows which consisted of Black-throated, Brewer's, and Rufous-winged. Several of the Rufous-winged came in quite close and perched obligingly for photos.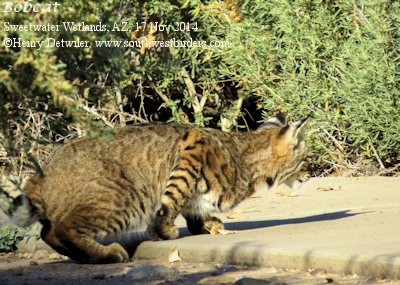 Our next stop was Sweetwater Wetlands, where we watched a bobcat stalk, pounce on, and then devour a rat. Plentiful waterfowl at this location included American Wigeon, Gadwall, Blue-winged Teal, Northern Shoveler, Northern Pintail, and a fly-by Canada Goose. A few shorebirds and an American Pipit were good to find. A Cooper's Hawk was no doubt thinking about making a meal out of one of the numerous Song Sparrows and Yellow-rumped Warblers.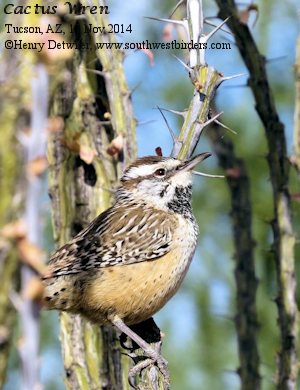 Farther south we checked out Kennedy Lake and added Ruddy Duck and Redhead. In the cactus garden we had close-up views of Verdin and a family of curious Cactus Wrens that came in to investigate us. One of them never did leave, but decided to glean every part of the ocotillo in front of us. From here we drove south to the small waste water treatment pond at Amado--the pond had several diving ducks and grebes: Lesser Scaup; Western Grebe; and Eared Grebe. Michael also spotted a Greater Roadrunner nearby.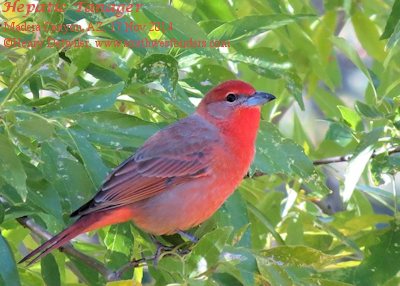 In Madera Canyon we spent a bit of time watching the feeder activity at Santa Rita Lodge. Mexican Jay and Lesser Goldfinch were non-stop visitors, and were joined from time to time by Pine Siskin, Bridled Titmouse, and White-breasted Nuthatch. Anna's Hummingbirds were regulars at the sugar water, and infrequently joined by two Magnificents and a Blue-throated Hummingbird. Both a male and female Hepatic Tanager were very nice surprises.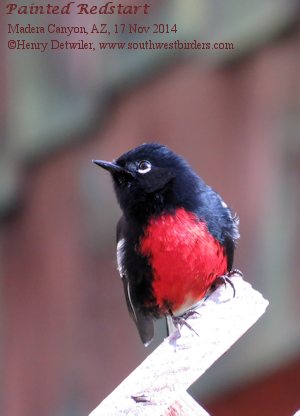 A final stop up at Madera Kubo produced this confiding Yellow-eyed Junco and this handsome Painted Redstart. We made it back to the motel on Ina Road as the lights of Tucson flickered on--the end of another fine birding day in southeast Arizona.