Imperial County Big Day
2 May 2010
by Henry Detwiler

A long day of fun birding from the Laguna Mountains to the Salton Sea, setting a personal record of 144 birds.

144 species seen Click here for bird checklist
Click on thumbnail pictures for full-sized photos.


On Sunday morning I got up long before dawn and drove to extreme southwestern Imperial County to greet the sunrise. Cold temperatures and a stiff wind made by ears sting and my nose burn, but the birding was nonetheless good, especially in sheltered areas.


Rufous-crowned Sparrow


Boulder Canyon

The fog sitting over the mountains made for a spectacular sunrise. I had one confiding Rufous-crowned Sparrow chipping not ten feet in front of me. Lingering Brewer's Sparrows were flitting about, and it wasn't long before the local pair of Scott's Orioles started belting out its sweet song. Although Rock Wrens were common, I still couldn't scare up a Canyon Wren in this area..
A week prior to this big day I was driving up this 4x4 road and scared up this Great Horned Owl. However, on this particular Sunday morning it was nowhere to be found.


Great Horned Owl
| | |
| --- | --- |
| | Lawrence's Goldfinch |
| | |
| --- | --- |
| California Thrasher | It took some coaxing, but I finally got the usually-confiding California Thrasher to start singing. Perhaps its offspring had hatched or they were sitting on a nest. Although much colder and windier than usual, the early morning hours had turned up almost all the expected birds except Scrub Jay. |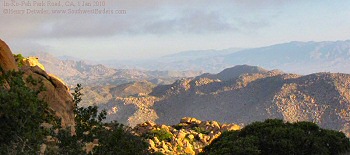 Laguna Mts., sw corner of Imperial County

Blue Grosbeak

Down at Sunbeam Lake Park a Bronzed Cowbird was strutting under the Eucalyptus trees. Also in the park were the brothers White-fronted & Cackling Geese, still consorting with the tribe of domestics. And at Cattle Call Park in Brawley some fifty Cedar Waxwings were also gorging themselves on mulberries.

Where Drew Road crosses the New River, damage from the Easter Earthquake that rocked the area was quite apparent. This Blue Grosbeak was at Fig Lagoon on Monday, but come Sunday it was but a memory. A mulberry tree next to Lakeview Golf Course was a good place to watch fruit-eating Gila Woodpeckers and Western Tanagers. My only White-crowned Sparrow was also under this tree.


Drew Road, leading to Fig Lagoon
| | |
| --- | --- |
| The end of Poe Road continued to provide Ruddy Turnstones and Red Knots, though down in numbers from a week ago. I convinced two Clapper Rails to talk to me at Unit 1, but the Soras remained silent—maybe gone north. | Gull-billed Tern |
| | |
| --- | --- |
| The shallow pond at Morton Bay (at the end of Garst Road) was also drying out, and many of the waterfowl were pretty far out in the water--but still an excellent place to study and photograph both Wilson's & Red-necked Phalaropes. Black Terns numbered in the hundreds. A Peregrine Falcon was standing on the far north shoreline surveying the action. | The south fence of Willey Reservoir provided the regular Lark Sparrows. A Brant was hanging around the end of Bowles Road; farther up the Sea wall was a small flock of six more. The bay at the end of Bowles is once again drying out, but there are still dozens of Stilt Sandpipers there now, along with hundreds of phalaropes, and thousands of peeps. Just over a week ago I had this Yellow-footed Gull, but alas, it was also missing for the Big Day. This Eared Grebe was drying its feathers on the shore, but waddled back into the water right after I snapped its portrait. |

Bonaparte's Gull

At Obsidian Butte were dozens of Bonaparte's Gulls offshore, and this wind-ruffeled Gambel's calling from the rocks. At the headquarters there is often this Barn Owl (from the week prior) roosting in a palm tree directly in front of the headquarters building, but alas, no luck on this date!


Barn Owl


Gambel's Quail
I ended my birding day at Finney Lake and the surrounding ag & scrub lands. Several Bermuda grass fields provided dinner for a huge mixed flock of swallows. A flock of 40 Vaux's Swifts added to the excitement. A Least Bittern, several Yellow-headed Blackbirds, a Crissal Thrasher, and a Chipping Sparrow were the last birds of the evening.


Clark's and Western Grebes

As I was driving home, I caught sight of a Burrowing Owl being pursued by a mob of Red-winged Blackbirds—the owl had what looked like a baby bird in its talons. Wonder if he ever got to eat his dinner?