Southern Florida
26 Apr-8 May 2009
by Henry Detwiler

Two great weeks of birding from Key West to Gainesville with expert Swedish birders--what could be more fun!

Click on thumbnail pictures for full-sized photos.
183 species seen . Click here for bird checklist.


Don & Lena, Douglas & Ingegerd, and I started off early at the Kendall neighborhood on Sunday morning in search of the Miami exotics. After a bit of walking we found a single Red-whiskered Bulbul singing on a telephone wire. Moving to the edge of the neighborhood, across from the Baptist Hospital, we were soon rewarded by a beautiful male Spot-breasted Oriole which flew in and landed in a tree not 20 feet in front of us!.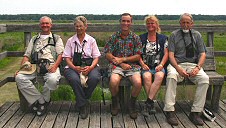 Dan, Ingegerd, Henry, Lena, & Douglas
| | |
| --- | --- |
| Black-bellied Whistling Duck | |
| | |
| --- | --- |
| Early on Monday morning we headed to the Prairie Unit of Three Lakes Wildlife Management Area, where we soon had a number of "singing" Grasshopper Sparrows. On the way to look for the Red-cockaded Woodpeckers, we found this big Yellow Rat Snake. A couple of hours of searching combined with the sharp eyes of Lena netted us a pair of Red-cockaded Woodpeckers. But it wasn't until the last day of birding the pines that we finally ran down the Brown-headed Nuthatches.. | Grasshopper Sparrow |

Great Blue Heron

At Fort DeSoto State Park we watched this Great Blue Heron snag a very long mullet (?) and proceed to devour it head first. At the north beach we were pleased to find a variety of gulls, terns, and these cooperative shorebirds.


Sanderling and Ruddy Turnstones


Dunlin
| | |
| --- | --- |
| Boat-tailed Grackle | We fought the Tampa traffic on Tuesday morning, and made it to Lettuce County Park unscathed. A beautiful little park, we added the brilliant Prothonotary Warbler to our growing list of birds. By late afternoon we'd made it to Gainesville, and a short walk in Payne's Prairie Park convinced us to return again the next day. In addition to great looks at some of the birds, like this Boat-tailed Grackle, we saw several Black Racers. |
Eastern Coral Snake
We made the mile hike out to the prairie overlook, enjoying the birds along the way. This American Bittern tried to remain hidden, but failed to realize it was hiding in green leafy pond foliage rather than cattails--it never did fly away, even when a family came to ooh and ah over it.


Skimmer
| | |
| --- | --- |
| At the end of the trail was an overlook with benches, which we were more than happy to take advantage of, since it was noon--and very hot and humid. Out over the shallow lake we watched a Great Blue Heron do battle with a huge fresh-water eel, finally beating it into submission and swallowing it. On the return trip this White-eyed Vireo hopped into view just long enough for me to snap this photo. | |

Red-shouldered Hawk

We were hoping to hear some rails, but by the time we got there it was already late & hot, and we heard nothing. Fortunately, we did score with a Marsh Wren and a small flock of Roseate Spoonbills,

At Lake Woodruff NWR we got beak-to-beak with this Red-shouldered Hawk, and then farther down the trail, got killer looks at this Green Heron.


Green Heron

Sandhill Cranes

At Lake Kissimmee we searched in vain for more Snail Kites and Crested Caracara (for Lena), but did get to see several juvenile Loggerhead Shrikes, a family of Sandhill Cranes, and this fast Eastern Meadowlark.

On the way out we saw two beautiful adult Bald Eagles perched in an old pine tree. A bit later we watched a Sandhill Crane attacking two tom turkeys as they were strutting around. They didn't leave their territories, but they did evade the pointy crane bill.
On our last day we explored a few of the wetlands around Ft. Pierce and Port Lucie, and found our first Gopher Tortoise for the trip. By mid-afternoon we were back at Miami International, and I said goodbye to my birding companions. It had been a most excellent two weeks of birding and exploration.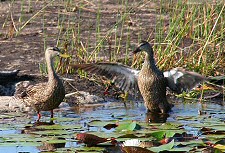 Mottled Ducks