Southern California Weekend
25-26 October 2008
by Henry Detwiler

Spent a fun weekend chasing birds with Carol, Jean, and Joe across the Imperial Valley and the Laguna Mountains..

Click on thumbnail pictures for full-sized photos.

I met Carol, Joe, and Jean at 7:00 a.m. at their motel in El Centro. Our first stop was a flooded area south of Keystone, where we picked up dowitchers, sandpipers, and yellowlegs. A giant skein of White-faced Ibis.wiggled across the sky as we headed north to the Salton Sea.

A couple of miles north we watched singles and pairs of Sandhill Cranes drop from the sky onto the grounds of the quarry. At Brawley's Cattle Call Park we added a few sparrows, Verdin, and Gila Woodpecker. At Ramer Lake we saw Forster's & Caspian Terns and Clark's Grebes.
The surrounding mesquites yielded this pretty, dark Red-tailed Hawk, a Phainopepla, and gnatcatchers. North of Calipatria we found several Burrowing Owls; this one seemed to sink slowly into the ground as if on an overloaded elevator.


Burrowing Owl
We ate our deli sandwiches (from Niland) at the refuge HQ among the White-crowned Sparrows and Abert's Towhees. Jean found the resident Barn Owl perched on a palm tree frond in front of the visitor's center.


Bubbling Mud Pots


Barn Owl

Along Davis Road we stopped to admire the gurgling, odiferous mud pots. North on Davis we saw our only Stilt Sandpipers for the day.


| | |
| --- | --- |
| The Sea continues to recede, and many of the "heron" trees southeast of Red Hill now have dry feet. On the west side of Red Hill was a fine assortment of shorebirds: Marbled Godwit, Willet, Semipalmated & Black-bellied Plover, Least & Western Sandpipers, Long-billed Dowitcher, and Long-billed Curlew. Looking north to the mouth of the Alamo River was our first Yellow-footed Gull. | |
| | |
| --- | --- |
| | On Garst Road this obliging Peregrine Falcon let us drive right under him for some nice close photos. At Obsidian Butte we had a fly-over Heermann's Gull and Western Grebe. Along the Sea wall we got additional gulls and more shorebirds. Since the World Series was coming up, we headed back to El Centro as the afternoon came to a close. |
| | |
| --- | --- |
| | The next morning we started out at Fig Lagoon to the yodeling of a Common Loon—a mighty strange sound for the desert! Other, more expected sounds were the croaking of Night Herons and the clacking of Least Bitterns. Up at the golf course we located a Vermilion Flycatcher and a lingering White-winged Dove. |
| | |
| --- | --- |
| Over at Sunbeam Lake we had to go around the pond to find the local goose flock. The White-fronted Goose was spooked by something and was flying around. Meanwhile, the Cackling Goose was happy to keep company with the giant domestics. | |
| | |
| --- | --- |
| From there we headed up into the Laguna Mts. It was surprisingly warm up in the mountains, especially for 9:00 a.m. We were happy to find a cooperative California Thrasher, California Quail, a few Cedar Waxwings, a wayward Red-breasted Nuthatch, and a Cassin's Vireo. The Tricolored Blackbirds were a bit harder to see, but we finally convinced them to fly out of their protective cattails and perch on the overhead phone lines for a leisurely look. As we left, they were already drifting back to the cover of the reeds. | |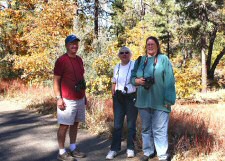 Joe, Jean, & Carol
At Kitchen Creek Springs we added a few more mountain birds: juncos, Plain Titmouse, and Acorn Woodpecker. At the Laguna Mountain Recreation Area we got outstanding looks at Mountain Chickadee and Steller's Jay. Then, all too soon, it was time to head back for the next game of the World Series—but it had been an excellent weekend of birding Southern California!