Finding Birds in Southern Illinois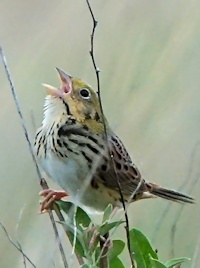 Henslow's Sparrow
Would you like to see wintering Whooping Cranes, Trumpeter Swans, and five species of geese?
Listen to and watch breeding Henslow's Sparrows?
Search out Rough-legged Hawks in grasslands and ag fields?
Watch graceful Mississippi Kites snapping up dragonflies on the wing?
Observe Bald Eagles once again breeding in the heartland?
All these birds and many more are at your fingertips when you order a copy of Finding Birds in Southern Illinois! 34 of the best birding sites in southern-most Illinois are described in this 262-page reference. Each chapter contains the following information: habitat, target birds, description, birding suggestions, and driving directions. The book is capped by a detailed seasonal checklist.
The price is $20.00, which includes postage. Click here for ordering instructions and to preview sample chapters.